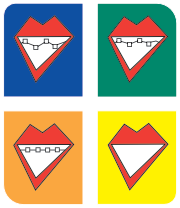 Our Practice
Here you should feel comfortable.
VIRTUAL TOUR THROUGH OUR ROOMS
Here you can see some impressions of our practice. Take your time and have a look around.
INFORMATION ABOUT THE PRACTICE
Orthodontics is a prophylactic therapy that can give you attractive, healthy teeth that will last a lifetime. In order to provide each patient with individual solutions, that guarantee a maximum of functional and aesthetic comfort, we offer various areas of expertise. Due to continuous extensive training of our staff, we can offer our patients state-of-the-art treatment with the utmost individual care.
Areas of specialist knowledge
Treatment of children from the age of three onwards
Certain anomalies can be corrected even at this early stage, when the child still has its primary (baby) teeth. Bad habits such as thumb-sucking need to be discouraged at an early age.
Adolescents
At this age the growth and development of  the jaw bones can be controlled successfully and crooked teeth are easily straightened.
Adults
You are never too old for beautiful teeth.
Preprothetic orthodontics
In order to achieve optimal results, the benefits of an orthodontic therapy should be explored before prescribing a patient dentures.
Temporomandibular joint (TMJ) therapy
Pain in your mandibular joints can result from irregularities in the alignment of your teeth and jaw.
Surgical-orthodontic treatment
Even in severe cases of innate or acquired defects, orthodontists and orthognathic surgeons can work together to restore facial harmony and improve the function of your jaw.
Holistic Orthodontics
The functional state of your oral system and its connection to posture, breathing, and digestion are taken into account as part of the therapy.
Specialities
Treatment with removable braces
Treatment with fixed braces
Bionator Therapy
Invisalign Technology
Individually designed protection for sports
EDP-based analysis of treatment files
Low-radiation digital X-ray technology
Digital X-ray processing
Non-compliance appliances
Self-ligating brackets
Our practice caters for the needs of disabled patients
We are fluent in English
Opening hours
| | | | |
| --- | --- | --- | --- |
| MON | 9 – 12 h | | | 13 – 18:30 h |
| TUE | 9 – 13 h | | | 14 – 18:30 h |
| WED | 8 – 12 h | | | 13 – 18:30 h |
| THU | 9 – 12 h | | | 13 – 18:30 h |